Alder Hey Hospital
Alder Hey is an iconic, state-of-the-art, Children's hospital based in Liverpool. It is Europe's only hospital in a park. It is unique in design, and world class in facility.
The Alder Hey Innovation Centre's vision is to build a healthier future for children and young people using digital and medtech innovation as a key enabler. Based in a dedicated innovation Hub at the heart of the Alder Hey campus, the Innovation Centre aspires to be a centre of excellence, solving real-world healthcare challenges with cutting edge technology.
The partnership between Alder Hey Children's Hospital NHS Foundation Trust's Innovation Centre and Bluetree Medical first started with Alder Hey's Senior Speech & Language Therapist (SLT) Wendy Blumenow encountering a challenge during lockdown: The children, some of whom have communications difficulties including autism and hearing impairment, found it hard to understand what Wendy and her colleagues were saying because of the compulsory wearing of face masks by therapists and other healthcare professionals.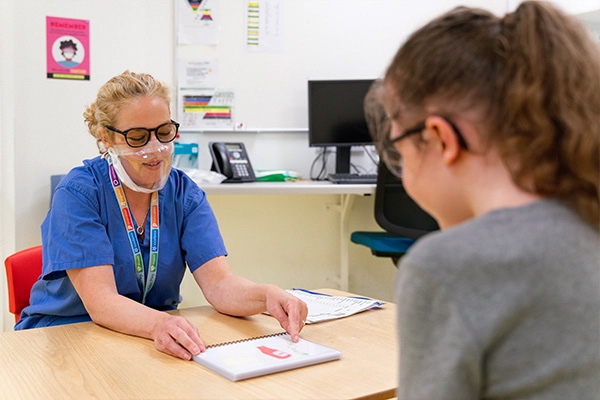 Whilst the wearing of these minimised viral spread, the children undergoing speech and language therapy as in-patients and in the community setting were not fully able to engage in their therapy. Alder Hey needed to find a way to maintain patient safety while ensuring children could benefit from their much-needed therapy sessions.
Wendy realised that a transparent mask could provide the solution and submitted her challenge to Alder Hey Innovation Centre. Whilst other masks had been developed and provided a 'letterbox' approach to support lip reading, these were found to be ineffective as a significant part of the facial expression could not be seen and research had shown nearly half of us (46%) lip read as part of everyday communcation.
Tasked with the development of the new mask, Alder Hey Innovation Centre formed a partnership with Bluetree Medical who worked closely with Wendy and the team to deliver the unique innovation of a transparent face mask for use by healthcare professionals and therapists, which protectedtheir safety whilst enabling patients to see their faces clearly. The result was the BrillianSeeTM mask.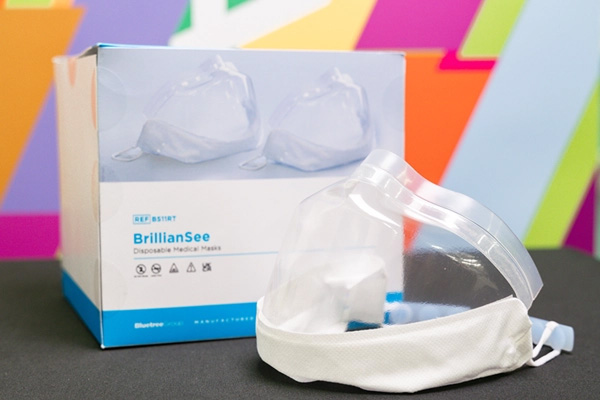 The BrillianSeeTM offers improved communication as the face can be seen clearly, allowing for improved reading and interpretation of non-verbal cues. It is comfortable to wear and allows for unencumbered movement of the lower face. The BrillianSeeTM is being used by the Therapy Team and in Bereavement Services and there are plans to roll it out across the Trust in the near future.